Bill's latest and most personal book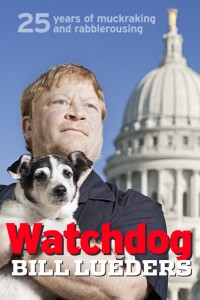 Watchdog: 25 Years of Muckraking and Rabblerousing is a compilation of 73 articles and columns spanning a quarter century. Watchdog includes opinion writing, investigative reporting and personal stories, highlighted with updates. Featured are Lueders' most important investigations: the northern Wisconsin county that allegedly used welfare recipients as slave labor; the white businessmen who siphoned off much of the profits from Indian casinos; the mystique of Gov. Tommy Thompson; the caucus scandal that rocked state government; and an exclusive piece based on communications with Eric Hainstock, who at age 15 killed his high school principal.
"Most of what journalists produce deserves to go out with the rest of the recyclables," says Lueders. "But two or three pieces a year cry out for preservation, and that's the call this collection tries to answer."
Writes author and columnist Doug Moe in the Foreword to Watchdog, "Bill Lueders [is Madison's] own demon dog of print journalism, an alley mutt hungry for the truth. [He's] angered cops, prosecutors and powerful politicians with his opinions and investigations. He has been fearless in the face of authority, and anyone who thinks that is easy is mistaken. It is much easier to be liked."
* * *
The cover photo for Watchdog: 25 Years of Muckraking and Rabblerousing was taken by Madison photographer Timothy Hughes with Bill's dog, Bailey,  as the watchdog. Tim was great and did two sessions with Bill and Bailey, one at sunset and one in the early morning. Bailey was also unusually cooperative.
Bailey was an 11-year-old rat terrier (possibly corgi in there somewhere)  that Bill and Linda adopted from a rescue when she (Bailey) was nine.  Bailey passed away about a year after the cover shot was photographed.
Copies are available from Amazon, local bookstores, or contact Bill.