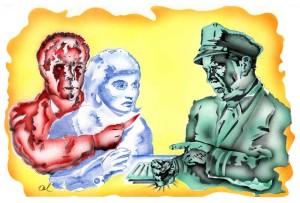 Cry Rape: The True Story of One Woman's Harrowing Quest for Justice dramatically exposes the criminal justice system's capacity for error as it recounts one woman's courageous battle in the face of adversity.
In September 1997, a visually impaired woman named Patty was raped by an intruder in her home in Madison, Wisconsin. The rookie detective assigned to her case came to doubt Patty's account and focused the investigation on her. Using lies and pressure, he got her to recant, then had her charged with falsely reporting a crime.
The charges were eventually dropped, but Patty continued to demand justice, filing complaints and a federal lawsuit against the police. All were rebuffed. But later, as the result of her perseverance, a startling discovery was made. Even then, Patty's ordeal was far from over.
Other books have dealt with how police and prosecutors bend and break the law in their zeal to prevail. This one focuses instead on how the gravest injustice can be committed with the best of intentions, and how one woman's bravery and persistence finally triumphed.
The book is available at local bookstores, from Amazon, and as a Kindle download.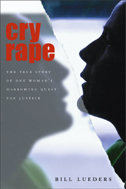 Praise for Cry Rape: One Woman's Harrowing Quest for Justice, by Bill Lueders, University of Wisconsin Press
"In a textbook example of how not to investigate rape, Patty was disbelieved, humiliated, and treated like a criminal while promising leads were ignored. Her fight for justice is an important and inspiring story, as well as a warning that old ways of thought about women persist in surprising places. As full of twists and turns as a mystery novel, and as tightly written, Cry Rape lays bare the underside of one of our nation's most liberal and attractive cities." —Katha Pollitt, columnist for The Nation
"Cry Rape provides a chilling example of how tunnel vision can lead even well-meaning police officers into forming conclusions that are flat-out wrong, how powerful interrogation techniques can lead innocent people to confess to crimes they did not commit, and how DNA can correct mistakes for the lucky few." —Barry Scheck, The Innocence Project
"When others doubted Patty's story and attacked her credibility, Bill Lueders continued digging and reporting, which ultimately helped this victim find justice. His account of the case is a thoroughly researched page-turner." —Bill Christofferson, author of The Man from Clear Lake
"Well-developed cast of characters and vivid dialogue…will captivate and outrage readers." —Kirkus Reviews
"Riveting. [Lueders'] achievement is large—the book is not a polemic, the tone is not angry, but the systemic fallibility Cry Rape reveals is frightening." —Doug Moe, The Capital Times
"I don't think it's just an important book for this community. I think every single person who works for the criminal justice system – every single person – should be reading this book. [I]t's an excellent expose of how people with the best intentions can be very, very wrong and how there are ways to stop that…." —Cheri Maples, former Madison police captain
"This is a powerful example of how an investigative reporter can right injustices and expose the need for further reform. [A] compelling book, as suspenseful and harrowing as the best mystery novels. …Patty herself emerges as a remarkable heroine: legally blind, scraping by on a paltry income, she keeps fighting to be heard. This works as investigative journalism, heroic tale, and exquisitely paced mystery." —Connie Fletcher, Booklist, American Library Association
"Lueders spells out how Patty suffered from incompetence and bias at every level of law enforcement. [A] shocking revelation of the abuse rape victims are sometimes subjected to by the very people who should be seeking justice for them." —Publishers Weekly
"In fascinating and often graphic detail, Lueders…takes readers on Patty's gut-wrenching ride to vindication." —Madison Magazine, October 2006
"Bill Lueders shows what it really takes to be an investigative  journalist. Endless energy to keep on battering at the wall of denial  and cover-up until he exposes the truth. Few have the patience and the skill. Lueders has, and he's written an important, exciting book." — Alexander Cockburn
"Cry Rape is an engrossing tale…all the more powerful for its detached outrage. Mostly, Lueders lets the facts speak for themselves.  …To those of us who fervently believe that good journalism can better the world, Cry Rape is a shining example of reporting at its best."­—Jason Shepard, The Capital Times
"As an investigative reporter who writes frequently about wrongful convictions, …I thought I'd lost the capacity for surprise when it came to a malfunctioning criminal justice system. But Cry Rape, about a case in Madison, surprised me." —Steve Weinberg, Milwaukee Journal Sentinel
"A must read, a powerful indictment of how tunnel vision can lead police officers and prosecutors even to turn against crime victims in a desperate attempt to protect the system." —Steven Drizin, director, Center on Wrongful Convictions, Northwestern University School of Law
"If I was teaching Criminology 101, I would use this book." —Former Madison Police Chief David Couper
"Lueders tells this nightmare tale with good old hard-nosed reporting, piling up the details and the case against the Madison and Dane County authorities in straightforward, no-frills language. …He may tell you more than you want to know about the horrors Patty endured – but that's proof of how well he's done his job." —Jim Hazard, Milwaukee Magazine
"This is one of the best chronicles of how torturous the justice system can be to women who have been forced into sexual acts against their will. …Not only is this book worth buying; it is also worth reading several times." —Teri King, Feminist Review
"Very rarely do true crime books tackle women's victimization in such a strikingly feminist way – especially when the author is male. …A quite compelling expose of the justice system's reluctance to admit its capacity for error and the bewildered working-class woman who gets caught in the middle."—Diane Anderson-Marshall, Curve magazine